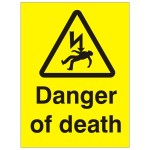 Ecotech Services offers an electrical safety testing service on site and in our workshop for plug in appliances.  It is a requirement by law in many cases.  We use the test and tag method as outlined in the New Zealand standard AS/NZS 3760. While doing it to the standard is not required by law it gives certainty and some organisations require it as part of their policy.
Our testing staff are not merely competent as required by law but are experienced or registered electrical workers.  We know what is likely to fail an electrical safety test.  We have seen a number of instances of false positive tests due to a lack of experience of
During the electrical safety testing we only do what is required by law and what we consider to be necessary and what you require from us.  We do not carry out unnecessary testing for the sake of profits.
On site we charge on a per hour basis since this is the fairest method for all those involved.  The time taken to carry out the testing depends on the number of items to be tested, the type of items, and the level of documentation that you have requested.
We charge a fixed fee for item brought into our workshop and we can generally do it while you wait.
Further information
Last updated: February 18, 2021 at 10:43 am