Product stewardship is a concept where preventing environmental degradation is the responsibility of everyone involved in the chain from manufacture  to the final reuse of recycled material from that product.
Similar concepts include Extended Producer Responsibility (EPR) and Producer Responsibility which place the onus on the producer. Because product stewardship involves everyone, including the eventual recycling of a product, it can be considered to be a fairer system of apportioning responsibility for the effect a product has on the environment.
With the rise in per capita consumption waste, the level of toxic material, and the complexity of modern products, product stewardship has become an important tool for environmental protection from litter and waste.  E-waste is the fastest growing sector of the waste stream and since it generally consists of complex products containing toxic substances it is an ideal candidate for product stewardship.
In May 2014 the New Zealand Government sought submissions on product stewardship for selected waste streams and the summary showed a majority support for government intervention.
In August 2019 the Government asked for submissions on having various products, including e-waste, declared as priority products.  This would mean that they would have mandatory product stewardship. In July 2020 it was announced that e-waste would be priority products under the Waste Minimisation Act.
Further information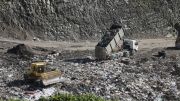 A new plan to regulate product stewardship may reduce waste and create jobs, but experts say it crosses the starting line, not the finish.
Reduce, repair, reuse, repurpose, refurbish, recycle.
Last updated: November 13, 2020 at 20:24 pm