Plastics are an extremely useful material but the very properties that make it useful can also cause problems with its recycling.
Plastics come in thousands of different types with thousands of uses. An item of electronic equipment will contain hundreds of plastic components of differing types.  The plastics may have flame retardant properties, reinforced with glass fibres for strength, or have been chosen for flexibility, or for their electrical insulating properties.
It is sometimes difficult to identify the different types of plastic.  Fortunately, some manufacturers are adding identification information on the plastic mouldings making it easy for the recycling process.
Some of the common plastics used in electronic equipment includes ABS, polycarbonate, polystyrene, and polypropylene.
In 2017 China, under their National Sword programme, began inspecting plastics imported into the country check for quality.   They now operate a permit system and the imported volumes are now a fraction of what they were previously.  This has had a huge impact on the global plastics recycling market.  Taiwan, Vietnam, and Malaysia now have restrictions on recycled plastic imports.
A recycling method that has emerged is turning mixed waste plastics into blocks that are then used as a building product.  A number of organisations have been established to develop recycled plastic building blocks including ByFusion and Conceptos Plástico.  While this use of plastics reduces the volume of waste going to landfill and reduces reliance on other materials it is a type of downcycling, a less preferable option to actual recycling.
The Global Ecobrick Alliance Earth Enterprise has formed to promote building blocks made of discarded plastics that are packed into discarded beverage bottles.
Data for 2004 shows that 9% of waste to landfill consists of various plastics.
Further information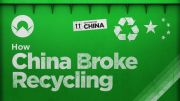 Last updated: June 16, 2022 at 6:48 am