This is cute.  The cat as well as the concept.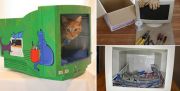 I always like the idea of repurposing but if it is done we should always consider the end of life recycling.  In this case the plastic case has been painted which means that when the plastic is granulated for recycling it will be contaminated with the paint.
Another point about this reuse of the computer monitor case is that the circuit board and CRT (which is difficult to recycle and dangerous to handle) will need to be delivered to a recycler who will accept it for recycling.