We are experiencing outages on our landline number at present.
Our service provider is in the process of rectifying it. Please send an email with your phone number so that we can ring you.
See our contact page for our email addresses.
Welcome to the online home of Ecotech Services Limited, a technology sales and service company based in Christchurch, New Zealand that helps you to manage the environmental aspects of electronics, electrical, and computer equipment.
We live in a world surrounded by electronics and computers and unfortunately this technology sometimes has a detrimental effect on the environment.  Ecotech Services offers a wide range of products and services aimed at minimising that impact.  We do this by repairing, refurbishing, reselling, and recycling a wide range of electrical, electronic, and computer equipment.
Our wide range of services along with our strong focus on environmental protection makes us a unique business in New Zealand.  To maximise the environmental benefits of our work we do not have any expensive marketing, we do not spend much money on our website,  and we do not spend money on expensive environmental certification.
We cater to all types of organisations and to the general public.  Our customers are from industry, the commercial sector, universities, government agencies, not for profit organisations, and individuals.
Regardless of whether you have a handful, boot load, van load, or truck load of e-waste we are able to accept it.  We can collect in the Christchurch city area.  Items can also be sent to us by prior arrangement.
We have a showroom where we sell a wide variety of mainly second hand and refurbished items – from cables to computers, appliances to adapters, and much more besides.
Computer recycling
Battery recycling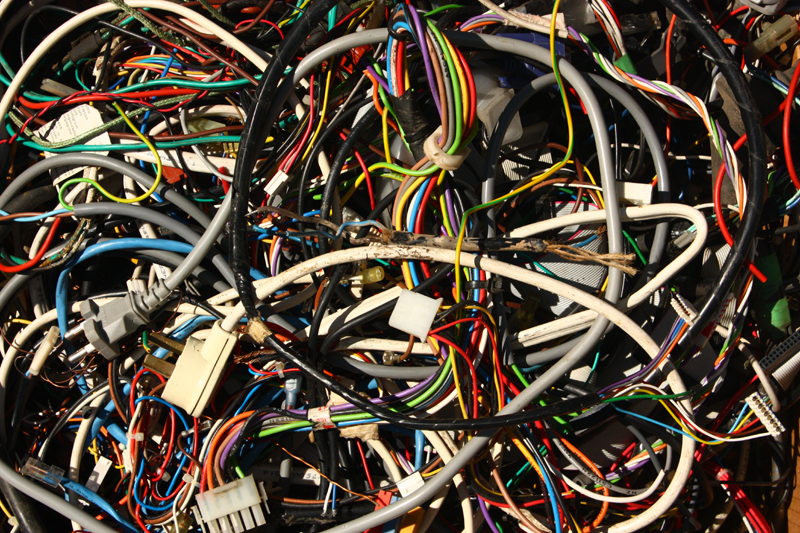 Cable recycling
Mobile phone recycling
Circuit board recycling
Electronic repairs
Computer sales and service
E-waste recycling.
Helping you to protect the environment
Locally owned and supporting the local economy
Good, honest prices
No annoying automated telephone answering system
Reduce, repair, reuse, repurpose, refurbish, recycle.